The Research Coordination Network (RCN) on Carbon Capture, Utilization and Storage (CCUS) is a project funded by the National Science Foundation (NSF) under the Science, Engineering and Education for Sustainability (SEES) program.  The aim of the RCN-CCUS is to advance the field of CCUS by coordinating interdisciplinary research, training and educational activities.
Learn more about our mission and the RCN-CCUS
Featured CCUS Researcher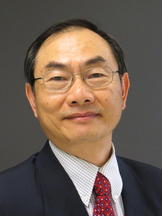 Prof. Liang-Shih (L.-S.) Fan, OSU, is widely recognized for the development of clean energy technologies including CO2 separation from flue gases using high reactivity metal oxides and enhanced H2 production with in-situ CO2 capture.  Prof. Fan's scientific contributions have recently extended to include the direct conversion of shale gas to high purity syngas via chemical looping. Learn more
Announcements
The Department of Defense (DoD), through the Environmental Security Technology Certification Program (ESTCP) is seeking proposals for demonstrations of energy technologies on DoD installations as candidates for funding in FY 2016. Click the title for more information.
Recent Events
Monday, November 17, 2014, 9:30am-1:30pm EST
This event brought together approximately 100 middle school students to interact with college students and chemical engineering professionals through a series of hands-on activities.
Read more
Sunday, June 1-10, 2014, 9:00am EDT
The RCN-CCUS and Research Experience in Carbon Sequestration (RECS) partnership, which commenced in 2013 to facilitate educational outreach in the field of CCUS, has continued this year. Founded in 2004, RECS is the premier carbon capture, utilization and storage (CCUS) education and training...
Read more