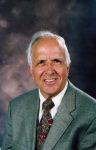 Stanley-Thompson Professor Emeritus, Department of Earth and Environmental Engineering, and Director, Earth Engineering Center
Dr. Nickolas J. Themelis obtained his B. Eng. and Ph.D. in chemical engineering from McGill University. In the first part of his career, he was Associate Director of the Noranda Research Center in Montreal where he invented the Noranda continuous smelting and converting process that has been applied in several countries and has reduced sulphur emissions to the atmosphere by millions of tons.
In 1972-1980, Dr. Themelis directed the R&D of a major U.S. corporation (Kennecott). He then joined Columbia in 1980, was chairman of the Henry Krumb School of Mines, and founder of Columbia's Earth Engineering Center. In 1995, he introduced the teaching of industrial ecology to engineers at Columbia University. In 1997 he led the transformation of the historic School of Mines to the new engineering discipline of Earth and Environmental Engineering.
Professor Themelis has been consultant to industry and government in the areas of process design and management of material resources. He is member of the U.S. National Academy of Engineering, the New York Academy of Sciences, the International Solid Wastes Association, and the Air and Waste Management Association. He is Fellow of the Minerals, Metals, and Materials Society, and the Chemical Institute of Canada. At Columbia University, he introduced research in the high temperature processing of solid wastes, and co-founded the Waste to Energy Research and Technology Council (WTERT), an international consortium of universities, companies and governmental organizations concerned with the recovery of energy and materials from industrial and municipal wastes. WTERT now has sister organizations in China, Canada, and Greece.