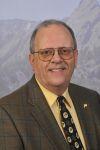 Professor, Department of Chemical and Biological Engineering
David Clough is a professor in the Department of Chemical and Biological Engineering at the University of Colorado.  He has been on the faculty there for 36 years.  Professor Clough has been teaching spreadsheets to undergraduate chemical engineers for 25 years.  He has also taught, in collaboration with Miles Julian, a popular spreadsheet short course for the AIChE more than 100 times over the past 20 years.  Currently, he is developing an on-line course to be offered soon via the AIChE. 
Professor Clough's research is in applied process control.  He also served as Associate Dean of Engineering at Colorado for seven years from 1986 through 1992 and currently represents Colorado to the NCAA as the campus' Faculty Athletics Representative.